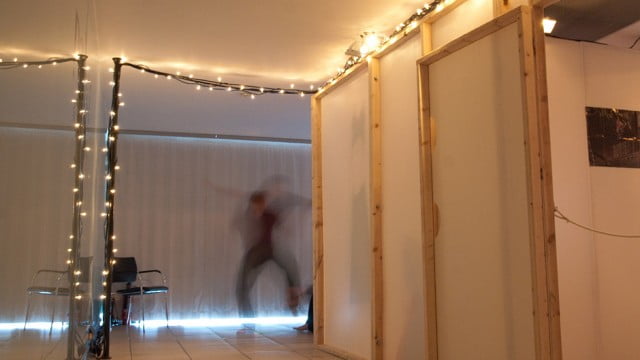 A Herald Angel Award winning production. Private Dancer commissioned by Unlimited, selected in 2010 for IETM in Glasgow, the Made in Scotland Showcase in the Edinburgh Festival Fringe, and was part of Unlimited: The Revelation Starts Here, part of the London 2012 Cultural Olympiad in The South Bank Centre, London 2012
At the leading edge of disabled dance practice and a pioneering show under any measure this is possibly the most significant show at The Fringe this year ★★★★★ The Skinny
Director : Janice Parker
Private Dancer takes place in and around a specially designed and purpose built 'house', a realistically scaled luminous installation, containing 5 different rooms. Each room is filled with personal memorabilia and objects belonging to a solo disabled dancer, who inhabits and performs there to an audience of one.
A room is a private space in a person's life. Collective access is normally denied. Each room is filled with personal memorabilia and objects, belonging to a solo disabled dancer, who inhabits and performs there to an audience of one. This intimate performance arena opens a portal to a normally unseen, unknown perspective of a person.
"A dance that is never seen, alone at home we give it our all our best moves, our best performance ever. In this rare glimpse of a personal world, you'll be entertained to a host of good music, see some very fine dancing and be offered the treat of watching alone. We might let you in…"
The work grew of an on-going line of enquiry in Janice's work that supports the contribution of the disabled voice to the art form – new vocabularies, performance presence, devising processes, re-examination of aesthetic criteria and the development of new collaborative practices and partnerships between disabled and non-disabled artists, choreographer and performer.
It began with the following questions: How can the learning disabled dancer find their authentic voice in performance without interference from the other? What are the collaborating forces that would enable that to happen? How would audiences be affected?
Private Dancer is available for touring. It is an event that forms and reforms itself in each location in which it takes place. The company of 18, disabled and non-disabled performers, is an ever evolving and deliberate mixture of diverse and eclectic performers of different backgrounds, ages, skills and experience. The movement material is created by the disabled performers and the company work in collaboration to create the choreography as a whole. The work can be re-created in different spaces and places with new performers each time and in response to the politcal and cultural context in which it takes place.
Click here to see Private Dancer behind the scenes films, made by Jo Verrent for The Space
CREATIVE TEAM
Director Janice Parker
Designer Richard Layzell
PERFORMERS TO DATE
Rachel Amey
Anke Böttcher
Caroline Bowditch
Claudia Borcheld
Jeanette Cochrane
Gaetan Chailly
Anita Clark
Marsaili Farquhar
Robert Gale
Agathe Girard
Alan Greig
Liz Hay
Jack Henderson
Viviane Hullin
Nadia Iftkhar
Alexander Kartasev
Coral Lee
Sarah Lawrie Johnstone
Richard Layzell
Kirsteen Mair
Vicky McMillan
Kirsty Nicholson
Amanda Noble
Nessa Norich
Housni Hassan (DJ)
Alena Polakova
Tom Pritchard
Craig Simpson
Lisa Sinclair
Ian Spink
THE PRESS SAID

In fact, we are all winners from the moment we check in our coats and start sharing in the generosity of the performers who sing, tell jokes, dance then come up to talk to us. At one point there's a game where oranges and then apples are passed from hand-to-hand: they are different yes, but they are both fruit. It is such a deft sweet symbol for the whole show…★★★★ The Herald

★★★★ The Herald
Once in a blue moon a piece of work appears that is so unexpected, original and brilliant that the usual mental apparatus simply isn't adequate. You are, as the expression goes, 'blown away' – forced to start thinking from scratch. Private Dancer is such a show… is thought provoking on so many levels that you know it will live with you for a very long time. One of the great strengths of the piece is that it is designed to give you space to think. There are sections of beautiful calming music and the promenade format allows you to take time out to contemplate and store the experiences… A cross between Art Installation, Zen Garden, dance show and party.★★★★ The Skinny, Mark Harding

★★★★ The Skinny, Mark Harding
Inevitably, there's always one show which causes a buzz and slips away before you have a chance to see it. This year, for me, it's Private Dancer (presented by Dance Base) a dance performance, performed for one audience member at a time, by a selection of able bodied and non-able bodied performers, in a specially designed house inside an Edinburgh hotel. Those who saw it …say it's challenging, daunting and unforgettable, and creator Janice Parker and many of her dancers certainly seemed delighted to pick up a prize.Bank Of Scotland Herald Angel Awards BBC – Pauline McLean

Bank Of Scotland Herald Angel Awards BBC – Pauline McLean
…the audience crosses the rubicon from voyeur to participant, momentarily part of this enthralling public art project. For a few fleeting seconds we are given a unique opportunity to witness these graceful men and women from a new perspective, seeing every bead of sweat, straining muscle or mischievous conspiratorial wink and smile…. to the five rooms reflect the personalities of the performers: a skateboarding dvd plays on loop in one space, while another is adorned with Chinese symbols. A solitary telephone inhabits a room on the opposite side and next door tables heave with picture books and pens….Private Dancer breaks down socially constructed boundaries ….The music overwhelms us as a room full of strangers moves as one, dancing with tears of joy in their eyes. ★★★★ The Metro, Damon Smith

★★★★ The Metro, Damon Smith
…There's nothing preachy or reproachfully confrontational about Janice Parker's concept or the performances by disabled and non-disabled dancers. There is, however, joy and sensuality and a degree of finesse that is impressive in its own right. One dancer gives me a little paper heart. Folded inside are the words 'I want more!' … it needs to be seen, not just here, but in more venues in more places… ★★★★★ The Herald, Mary Brennan

★★★★★ The Herald, Mary Brennan
Artist Richard Layzell beckons us into his creation: five cubicles, each containing a dancer and a chair that we may individually, if we're lucky, get invited to sit upon. …In one of the rooms I'm invited into, a disabled dancer sits on the floor, his wheelchair folded in the corner. We smile at each other for at least ten seconds before he begins his tumbling movement around the floor. Outside, people watch our exchange on video, projected on to the wall. It's a fantastic idea, a generous invitation to look and learn. Dancers and audience members mill around together. We don't know who's who until someone starts dancing. There is no judgment, no voyeurism. The atmosphere is of peace and kindness.Scotland On Sunday, Chitra Ramaswamy

Scotland On Sunday, Chitra Ramaswamy
…Private Dancer is a unique event blending performance and installation…If you're lucky, you'll be invited inside for a private show; if not, you can peep through the holes or watch via real-time footage projected on to a large wall…Usually, one-on-one dancing comes with all sorts of connotations, but here there is nothing but friendliness, joy and a sense that everyone, both performers and audience is having their needs respected.★★★ The Scotsman, KellyApter

★★★ The Scotsman, KellyApter
Janice Parker's programme note is magnificently modest: she describes this remarkably rich and rewarding performance as being 'in the first stage of its development'. If this is Private Dancer in its experimental stage then please, some-one, give Parker and her artists the space and support to take it further…as it stands, it is already resonant with an impressive mesh of thought-provoking images…we're in that fascinating zone of consensual voyeurism where strangers share eye contact (but beyond a hand-clasp, no touching) and where confines of space ensure there is a degree of intimacy. ..There is compelling artistry in every strand of this project, a real – and wonderfully natural – integration of resources where disabled performers and the other dancers (who usher and interact with us) create a world, the 'House' where we are invited into some-one else's fantasy, some-one else's private space.★★★★★The Herald, Mary Brennan

★★★★★The Herald,
AUDIENCES SAID
Completely unlike anything I've ever seen – in a good way! 10 out of 10, ★★★★★, incredible.
Seeing 'real' people and not highly trained bodies is mesmerising…this is really inspirational.
It was my third time watching Private Dancer. It literally gets better every time. The venue was fantastic, it doesn't matter how big the room, it doesn't add or take anything away. It's just a different dynamic every-time. It was fantastic, it was my highlight.
This was the first time seeing Private Dancer. Every dance in the rooms with the performers felt so precious and personal. Thank you to those who performed to me. If this project continues it would be awesome in a bigger space with even more people. Thank you for your generosity.
…Please continue inviting people into your rooms and never stop dancing!
The show was fantastic. It was for me a very emotional journey. Moving, energetic, love filled, spiritual, just magical.
What to say? An incredible experience. A true spectrum of emotions – still can't think clearly. Role reversal – watching – the watched – a really affective and effective piece of dance. Awesome. Thank you. Amanda it's great.
Private Dancer was a perfect title for this show! You felt as though you were being drawn into something very private and felt very privileged to be allowed to see in each room, for your own 'private' showing! Wonderful to see such variety of performances – uniquely talented artist. To finish with a lovely sense of calmness, lovely movement, super music.
A really beautiful experience with genuine (rare!) integrity for me. Adored the space and use of it. Strangely filmic even as alive experience, all about intriguing framing of the movement. Would have been so much less with only non-disabled performers. Reminds me what the non-disabled world has been missing all these years! Roll on all of us learning from these lovely performance qualities. You could sense the real ownership.
Wonderful performance. Warm and engaging, I couldn't stop smiling! Never stop dancing.
I don't know what to say about it. So I sure as anything don't know what to write, but I was profoundly moved. It was one of the most incredible things I have seen.
Thank you, it was really moving, beautiful. Stunning – there are not enough words to say. Thank you. I will always remember it.
I liked it very much – for some reason I expected it to be bigger – bigger dance spaces, more rooms. Just an idea: maybe an entire house with lots of rooms and many more private dancers.
A beautiful performance. I enjoyed feeling independent as an audience member. Being able to make my own choices, controlling what I saw. Great use of space, light and shadow. I particularly the part in the white circle towards the end.
A beautiful and gentle piece of performance. Thank you very much for the experience you have given us. I found the piece to be inspirational and emotional.
It was fantastic, a beautiful experience. I really appreciate all the effort put into the pieces, and I loved the intimacy of it all. The shadows on the walls worked well at some of the rooms, I wish there were more of those. Where there were two dancers, I suddenly felt intimidated in the small space, but I loved watching their playfulness from outside, I was watching them all over again. Lovely use of space, with the historical guide tour to the usage of the small spaces three takes on three different ways. Thank you!!!
Really moving piece. Felt it very reflective and expansive! Wonderful performances and individuality.
No words…close to the skin. It's shaking the boundaries seeing and being seen, the expectation of audience and dancers, between here and there. It's like between home and looking for what that means. It's something in between. Thanks for the nice experience.
Beautiful, touching and incredible delivery and so, so, so much more. Thank you from the bottom of my heart…
The piece was absolutely beautiful. The fragility of the structure of the house was gorgeous, shadows only adding to the fragile nature of the shared moments. Build up of anticipation then the sheer thrill of being chosen. What a fabulous ending!
I adored everything. It was beautiful and was such a lovely reminder and celebration of the beauty of the world. Thank you so much!
Thank you all. It made me smile in so many ways. Thank you for letting us join in dancing with you at the end as well … I was wanting to join in as soon as I was invited into the first room. When someone shares something so personal and joyous, you just want to share it right back with them. Thank you, thank you again!
High five! Thank you, I had fun. You guys RULE!
Incredible concept, made me feel like the show had been tailor-made for me. The detail really grabbed me and I happily would have stayed in there another hour. Thank you for my Private Dance and the Blondie rave! Stunning.
Thrilling performances.
Created community. Gave dignity. Let us see afresh. Led us by the hand. Visionary.
Graceful, beautiful
Hello! Congratulation on a truly remarkable piece. So much of what I experienced touched me, on a very personal level. The calmness and intimacy of being alone in a white room with a performer was wonderful. And a party at the end! Amazing! I'd like to tell you something very private. I was a carer for my mother my mother and her sister, both of whom were severely physically disabled and used wheelchairs on the rare occasions they went out I cared fro them, mostly my mother, up until their deaths ten years ago. The thing is, I don't think they ever thought they were anything more than disabled. My mother frequently referred to herself as 'a cripple'. I wish my mother could have had known what it felt like to dance, the way I saw dancers dance today. I am very privileged to have been here today. With love and gratitude.
Loved looking at the shadows on the outside of the rooms – suggestions of what was on the inside without being there…
Loved the quality of the hands – close up you can really see the energy through the whole body!…
Can't stop smiling, it was so beautiful and peaceful. All of the performers were fantastic and mesmerising to watch, was completely immersed in each individual's movements but also enjoyed watching other people's experiences from the CCTV. Well done to everyone on a fantastic performance…
Thank you so much for the lovely dancing and music. The promenading made me feel grand! Every room, make you want to dance!
Private Dance was a really beautiful experience. It's a shame that disabled performers are not more prevalent but this production displayed both disabled and non disabled performers in a safe and equal space was both moving and thought provoking.
I've never had a private dance before but I'd certainly have one again! Absolutely beautiful – thanks for letting me share your house.
So beautifully composed. Very romantic and graceful, felt completely absorbed by each performer. Particularly enjoyed watching performers subtly finding spaces behind unsuspecting audience members. Good luck to you all.
Absolutely loved it! Can't stop smiling, it was so beautiful and peaceful. All of the performers were fantastic and mesmerising to watch, was completely immersed in each individual's movements but also enjoyed watching other people's experiences from the CCTV. Well done to everyone on a fantastic performance, and congratulations on the award – you deserve all the success you will get!
Absolutely beautiful – inspired and inspiring!! So strong yet so fragile. Enthralling.
[/tab]
Performances to date:
7-9th September 2012
South Bank Centre, London
Part of Unlimited: The Revelation Starts Here
5 performances
21-23 June 2012
Centre for Contemporary Art, Glasgow
6 performances.
4-6 November 2010
Doge's Palace, Templeton Business Centre, Glasgow
Part of IETM artistic showcase
5 performances
17-21 August 2010
The Point Hotel, Penthouse Suite, Edinburgh
Part of the Made In Scotland Showcase in the Edinburgh Festival Fringe
10 performances
19 Sept 2009,
CCA, Glasgow
2 performances
Possibly the most significant show at the fringe this year ★★★★★ The Skinny

★★★★★ The Skinny
Private Dancer is a participatory project that is context responsive and works in situ with host organisations. It is conceived as a public art event that works collaboratively with the context in which it performers.
The performance brings together visual and live art elements and is devised as a promenade event involving 18 or more, diverse and eclectic disabled, able-bodied, community and professional performers.
Private Dancer can establish itself as an intensive and responsive residency and/or can be part of a festival, dance or live-art event. It can tour either with the existing company as a complete performance and/or involve new performers from the local community and context in which it is performing.
As a residency the event offers a professional performance opportunity to locally based performers, established and emergent, disabled and non-disabled, from the host community who can participate integrally within the piece, and are led and directed by performers from the core production.
The house is built in situ with locally sourced materials. Our research has shown that this is not only ecological but very cost effective. Both the design and the construction are uncomplicated and accessible.
A discussion with Janice Parker, the artistic director, is the starting point to each new event. Please contact her for further information and discussion.

Private Dancer acknowledges support from Creative Scotland, Dance House, The Work Room and Tramway, Glasgow.
Gallery