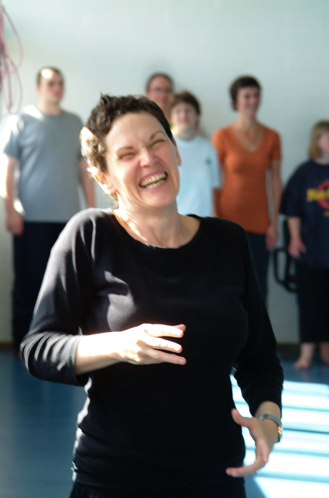 Janice Parker is an award winning independent choreographer and dance-maker. She creates performance, devises and facilitates projects, engaged with dance development and social action, regularly teaches and collaborates with people of all ages and abilities, mentors professional dance artists and organisations, occasionally writes about dance, and has recently started to perform.
She is a dance artist with a distinctive voice. Her work is responsive to context, situation, place and, most importantly, the person. Originally Laban Movement trained, a primary focus of her work is the exploration and development of new movement vocabularies, creative possibilities, and the aesthetic potentials that come from non-traditionally trained bodies moving.
Based in Edinburgh, Scotland and working locally, nationally and internationally, Janice works with a big mixture of people from all walks of life. Her choreography might easily involve a hundred or more performers in large scale works, or be an intimate solo portrait focusing on the voice of a single performer. Her work can happen over a number of days or weeks, or unfold over a number of years. She often mixes the community and the professional dance worlds regarding them with equal value, and is committed to the development of movement possibility and potential in each person that she works with. Her overall aim is to take people beyond their expectations of themselves and of each other. Janice is particularly known for her committment to the development and prominence of disability-led performance, and most recently she has turned her attention to the work of older people as performers.
Over her 40 years of practice Janice has created a rich body of collaborative work. She makes and facilitates live performance, films and installations. Her work has been created for mainstages, theatres, art galleries, living rooms, museums, an air-craft hanger, a bus, a car, in fields, village halls, public parks, factories, hotels, care homes and dance halls.
She is an artist interested in collaborative, responsive, open-ended and socially engaged practice. Her work is fundamentally an intervention and a force for positive change in the world, in art-making and in the organizations and people she works with. She is known for gently boundary pushing, being very quietly radicle, working outwith the main-stream and beyond the norm and the expected, seeking to work with who is not yet included, inhabiting spaces and places as artist in-residence and, ultmately, challenging and changing who can dance and what dance can be.
In 2005 Janice was awarded a Creative Scotland Award, in 2010 her work Private Dancer received a Herald Angel, and in 2018 Janice was inducted as an "Outstanding Woman of Scotland' by the Saltire Society and Glasgow Women's Library.