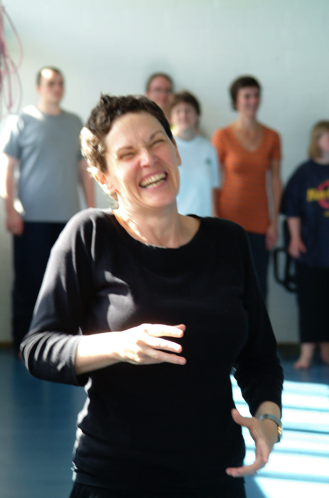 Janice Parker is an award-winning independent dance artist and choreographer. She creates performance, plans and facilitates projects, is active in dance development, social action and movement practice, leads residencies, teaches, mentors, works in theatre, occasionally writes about dance, and has recently started to perform.
Described as an artist with a distinctive voice, Janice often works outwith the main-stream, as a quiet radicle, known for her gentle boundary pushing, and her work in the margins of culture. In her partnerships and collaborations, she seeks to find new spaces and places to bring dance and people together to effect personal and social change and also contribute to dance as an art form.
In over 40 years, Janice has created an immense body of collaborative work – live, film, publication, talk and installation. She has been on mainstages, in theatres, art galleries, living rooms, museums, libraries, offices, an air-craft hanger, a bus, a car, in fields, village halls, public parks, factories, hotels, care homes and dance halls. She works in both the public and private sectors including Further Education, Arts Organizations, Dance Networks, for Festivals and Theatres and of course with many Third Sector Organizations and with Individuals.
Her work can involve hundreds of people on a large scale, or be an intimate solo, focusing on the presence of a single performer. She often mixes together the community and the professional dance worlds, regarding them with equal value, and is committed to the development of movement possibility and potential in each person that she works with.
Her way of working is responsive, open-ended, socially engaged and co-created. She holds space for people to bring themselves to, listens and guides, leads and facilitates, sometimes working over a number of years, at other times a few hours, days, weeks, or months. Each working process is unique to the people, the place and the context in which it is happening and seeks to create capacity, community and connection as well as contributing to the development of art form.
Based in Edinburgh, Scotland, and working both locally and internationally, Janice is particularly known for her collaboration with people, of different ages and abilities and from all walks of life, many of whom are new to dance; for her commitment to the development and prominence of disability-led performance; and more recently to the value of older people as makers, creators and performers. The focus of her current work, in light of the Covid-19 pandemic, is small, quiet and local, born of necessity, and seeking, through gentle movement practice, to contribute nourishment, resilience and resource to people, places and communities.
In 2005 Janice was awarded a Creative Scotland Award; in 2010 her work Private Dancer received a Herald Angel; and in 2018 she was inducted as an Outstanding Woman of Scotland by the Saltire Society. Janice is currently a Trustee of Luminate: Scotland's Creative Ageing Organisation.