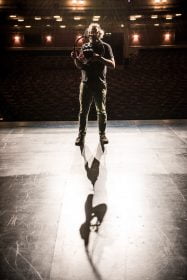 Janice Parker Projects (JPP) is a community interest company incorporated in 2014.  The company was formed to consolidate, develop and share artistic director Janice Parker's significant and award-winning contribution to dance and art-led, socially engaged practice.
The company builds upon her reputation for presenting consistently high quality, critically acclaimed new work that contributes to our understanding, experience and expectations of who can dance, what dance can be and how dance can benefit culture and society.
In 2015 Janice Parker Projects became one of Creative Scotland's Regularly Funded Organisations. The company has established a responsive and agile organisational structure, working with one permanent producer, core collaborators and a number of new and emerging artists in order to create new art works, present existing projects more widely and, significantly, to share Janice's decades of practice with the next generation of artists, organisations and audiences.
Janice Parker Projects is a community interest company, registered in Scotland, SC481039
Registered address: Custom House, 65-67 Commercial Street, Edinburgh, EH6 6LH
Email: info [at] janiceparker [dot] co [dot] uk
Office:  +44 (0) 131 563 5021