So, we are in October already. It rains as I write this, and Edinburgh glistens. I'm unusual in that I love both the rain and the dark and always feel more settled and at home in these kinds of days. An introverts paradise is how I think of them. However time does fly, work continues to blossom and here is some info on the three shows I worked on way-back in August as part of the Edinburgh Fringe and The International Book Festival.
The Basque Showcase at Dance Base in the Edinburgh Fringe went well. Earlier in the year I spent a week with Proyecto Collectivo HQPC in Donostia-San Sebastian mentoring and supporting them in their preparations for Edinburgh. After 3 days of Fringe performances they went off renewed in the politics and practice of their work, having made connections and contacts that will support and sustain their future, and were  also renewed in their sense of cultural identity and where and how it overlaps with other spaces and places. A wheelchair using choreographer, Maylis Arrabit,  is a rare phenomenon indeed. Bravo to Dance Base's Morag Deyes for programming this diversity in and amongst an already gloriously diverse programme of work. It was a pleasure to be a small part of it.  Here we  all  are  after  the final  rehearsal  in San Sebastian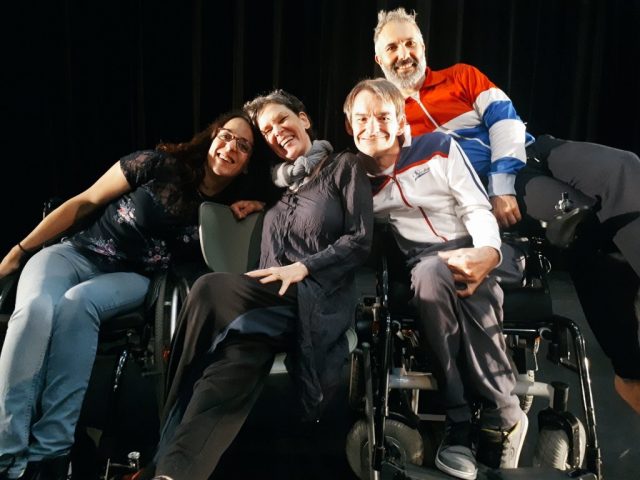 I also had the pleasure of witnessing musician Rowan Rheingan's performance of "Dispatches on the Red Dress". A few months earlier Rowan and dramaturg         Liam Hurley had invited me to spend a couple of days working with Rowan on the movement and physicality of the newly-forming show. I've started to language this work as facilitating artists to become embodied and emboldened – to discover and bring to the surface the movement language that they are searching for, a language that already exists somewhere in the body but is as yet undiscovered, unknown and sometimes hiding itself from the limelight. Anyhow, this was Rowan's first piece of gig-theatre and I'm delighted to say that this self-funded bold and passionate adventure went on to win a Scotsman Fringe First Award (and also nominations for The Carol Tambor 'Best of Edinburgh' Award and the Filipa Braganca Award for Best Emerging Female Artist.) Thanks to the wonderful Karine Polwart for connecting us.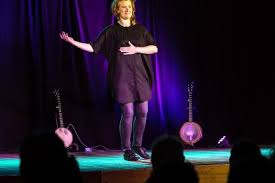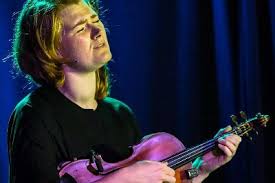 The next and final August sojourn was to work with the ever amazing Linda McLean and Orla O'Loughin on Playing With Books, a partnership between the Edinburgh International Book Festival and the Lyceum Theatre, Edinburgh. Linda adapted Canadian author Miriam Toews' novel 'Talking Women' into a stage play and together with 8 stellar Scottish actors, directed by Orla we worked together over 4 days  to create a sold out public sharing of the work in the Spiegaltent at the Book Festival. The book is tough, harrowing and ultimately supremely hopeful. Based on true events, 'Talking Women' is a testament to women and their means and mechanisms of survival and contribution to the world. The author has given each of the women characters a deep and particular gestural and movement language which is why I was there, supporting the understanding and embodiement of  its place in the overall work and in each of the characters. The world needs these women and I'm delighted to say that at the end of this month Linda, Orla and I are going to the Toronto International Festival of Authors to repeat the process and this time with 8 Canadian actors.