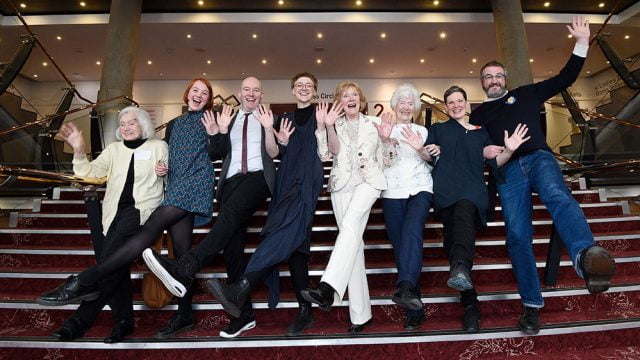 Image: Forget Me Not
An Audience With… began in 2016, as an open commission from Edinburgh's Festival Theatre inviting Janice to devise a new work. Sitting in the Festival Theatre's Empire rooms surrounded by the photographs and playbills from the past, Janice had the idea to put out a call looking for dancers from the Variety era who had, at one time or another, performed on the stage of the Festival Theatre in its original incarnation as the Empire Palace Theatre, or the Empire Palace of Varieties as it was sometimes called.
By various and circuitous routes Marie Duthie, June Don Murray and Doreen Leighton-Ward got in touch, and were later joined by Betty Clarkson. All four women, accumulative age (in July 2019) of 373 , are prolific Variety era dancers who each performed at the Empire, and have never stopped dancing and sharing their love of the art form.
You can visit to our website here: an-audience-with.com
Marie Duthie (née Pyper) is a pupil of Adaline Calder (Madame Ada), one half of the Raymond Sisters, touring the length and breadth of the UK on the Moss Empire circuit, regularly performing in 13 shows a week. Her agent was the prestigious Bernard Delfonte – now the Cameron Mackintosh agency.
June Don Murray (née Parker) hails from a theatrical lineage. She is the grand-daughter of the illustrious performer Happy Tom Parker, and daughter of Roy Don a performer, manager of the Edinburgh Palladium and illustrative artist amongst other things. June danced in many line-ups as a Moxon Girl and was assistant to illusionist The Great Levante when she was regularly and often fired out of a canon!
Doreen Leighton-Ward also a pupil of Madame Ada, danced in many a line up firstly as a Calderette and then with the Calder girls. And in 1953, after attending an Equity (the dancers and actors union) meeting one Sunday afternoon, she realised how underpaid she and her fellow dancers were., and also that they had no contracts. So, with the support of Equity, she successfully initiated a strike, got the Edinburgh theatre she was working in to issue contracts to the dancers and changed the pay of Variety Dancers for ever!
Betty Clarkson was one half of the dance duo Clarkson and Leslie performing with her husband George Clarkson under the name of Gail Leslie. Because of their love of theatre Betty's parents ran a boarding house in Edinburgh – The Wemyss Theatrical Boarding House – and it was one of the lodgers who taught Betty to tap dance, on the stage of the Edinburgh Empire. It was also how she learned when the big auditions in London were. At the age of 15, telling her parents that she was on a holiday with her cousin, Betty secretly auditioned! A week later she was touring and performing with The Danny Lipton Trio. She then met and married George and they performed for many years in the UK and abroad (Betty's scrap book jumps from Butlin's to the Taj Mahal with ease!) both independently and, like Marie and The Raymond Sisters, on the Moss Empire circuit.
An Audience With… an ever-evolving, collaborative and responsive dance work that has at its heart the agency and autonomy of its older professional dancers. Meeting regularly and weekly with younger dancer Katie Miller, we exchanged practice, talked about dance then and dance now, taught tap to beginners, ran workshops, grappled with what it meant to be an older dancer and created an assortment of events and happenings over the years. Our quiet radicle act was to continue as long as the heart desired and the spirit was willing.
We also created and performed two live events as part of the Luminate Festival. The first in 2017 and again in 2019, and in 2018 we published a book and made a documentary film tracking the making of our first show.
You can see Janice, June & Doreen dance and talk about the project on Reporting Scotland (jump to 21mins in).
Supported by various anonymous donors and Capital Theatres and Life Changes Trust
Gallery