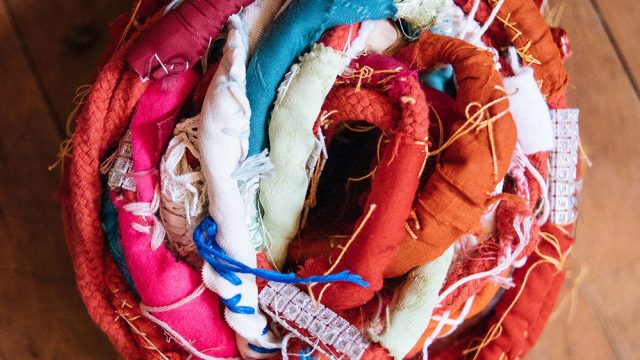 A private performance event to mark the many years of collaboration between maker and performer Amanda Noble and maker and choreographer Janice Parker.
Devised through a series of workshops over the course of a year the event took place at Garvald Home Farm where Amanda lives and was both a sharing and a recognition of the many aspects of her arts practice. Threads (& Nests) comprised of film, live performance (with performer Luke Pell), installation, images, red rope, a talk and hot chocolate.
It was Amanda's desire that it be private – opened only to her friends, family and colleagues – those who matter most. Placing her work in this context gave Amanda full ownership and agency in a way where she reframed herself and became known in new ways.
Janice on Amanda
"I first met Amanda Noble back in 2002. She came regularly to some dance workshops I was running for Artlink Midlothian in Kirk O' Field church hall at the top of the Pleasance. What I immediately liked about Amanda is that she sat by the door, for weeks, watching what was going on. She did this for weeks, bothering no-one and working on her own terms. Then suddenly one week she joined us. We've worked together on many performances since then. Here are some highlights:
Amplification and Restriction – this was one of the first pieces of work that Amanda and I created together. It was part of a residency with The National Museum of Scotland. Amanda, myself and other dancers met regularly and weekly for almost a year responding creatively to the Museum – its spaces and places, its comings and goings, its collections and exhibits, both in front and behind the scenes. Amanda created a duet with dancer Rowan Gillespie which they performed together within some of the Museum's secret empty spaces. We filmed the performance as part of a series of individual portraits created by each of the dancers and screened it a number of times in the museum.
Person or Persons Unknown – this performance was both a live show at the Traverse Theatre in Edinburgh and it also became a short dance film filmed in different locations in and around Edinburgh. Directed by Alan Greig of X-Factor Dance Company, Amanda was one of a company of 8. She created a number of duets, solos and ensemble work for both of the film and the live performance.
Private Dancer – Amanda danced in every performance of Private Dancer. The first performance was in 2009 in CCA in Glasgow and the final performance was in 2012 in The Southbank Centre in London as part of the Cultural Olympiad Programme. Private Dancer won a Herald Angel Award when it performed as part of the Made in Scotland Showcase in the fringe in 2010 in the executive suite in what was the Point Hotel in Edinburgh. We also performed that year in Templeton's Carpet Factory as part of the IETM showcase in Glasgow. Private Dancer took place in a purpose built life-sized house, where each of the 6 dancers had a room of their own, furnished however they wanted. Audience members were invited into each dancers' room, one at a time, where they were witness to a solo dance choreographed by each dancer. Amanda chose to fill her room with objects from her vast personal collection and to dance quietly within and surrounded by the materials she loves.
Private Party – was performed in The Arches in 2013. It is in this performance that Amanda began working with her red rope, the one she is working with here today. She slowly and deliberately wound and unwound the rope along the length of the room, and also performed a secret duet with dancer Luke Pell in a silent corridor and against a wall. Private Party is also where the mirror balls came from.
Threads (and Nests) – Amanda has continued working with the rope since her Private Party performances and intends to continue this labour of love into the future. We are proud to present this today along with other elements of Amanda's work. Threads (and Nests) is devised and developed by Amanda."
Image : Brian Hartley