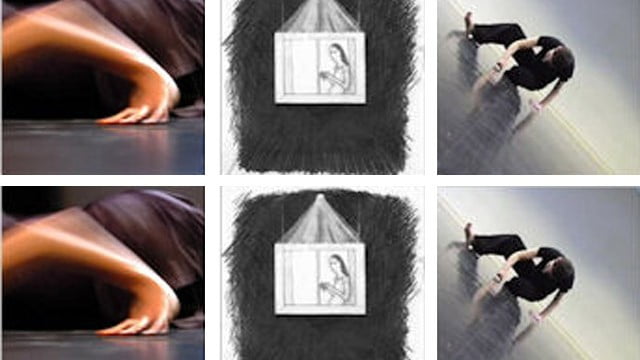 A limited edition time-based Publication resulting from research undertaken as part of Janice's Creative Scotland Award in 2005
This was part of Janice's Creative Scotland Award, 2005 where she embarked on a series of works involving 3 international choreographers – Cesc Gelabert, Rosemary Lee and Martine Pisane. Working in collaboration with the dancers from traveller dance she invited each of the choreographers to create a new work focusing on and drawing from the dancers particular movement vocabularies. The invitation was open-ended giving each choreographer choice in how they worked.
Cesc chose to collaborate with Alan (whom he knew from the working together on Arthur's Feet) on the making of a new solo. Rosemary worked with the dancers through a series of workshops and along with visual artist Robin Whitmore, and the dancers devised a series of portrait solo works. And Martine worked remotely from film footage of the dancers and devised a written choreographic response to the various movement vocabularies and languages she witnessed.
Janice's Creative Scotland Award was a political response to and rail against the predominant way of thinking at the time to find a prescriptive "right" way to work with learning disabled dancers. Janice has always believed that "there is no one method or model, there is only art, artists and people". She was also interested in working with professional choreographers who would genuinely be interested in the vocabularies and languages originating with the dancers and who would not try to change this and make the learning disabled dancers move more like non-disabled dancers. Working with mainstream professional choreographers also politically re-contextualised and validated the learning  disabled dancers from traveller