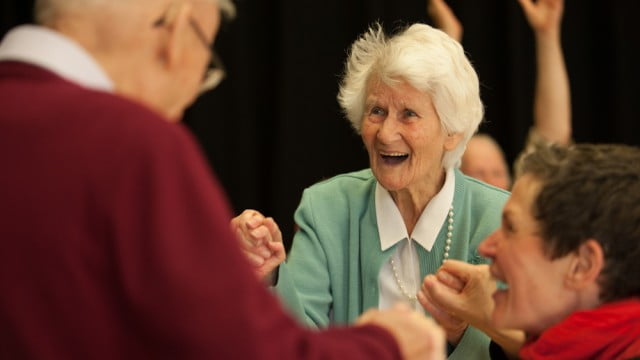 This dance film was created in 2012 as the first of a series of artworks made by Janice with film maker Martin Clark and in collaboration with the folks of Town Break Stirling, a charity that supports people living with dementia and their carers.
Seven years on this short film has had over 96.2k views online.  It continues to challenge perceptions of ageing and dementia and Janice regularly receives requests to screen it. It was recently screend as part of a round-table platform in San Sebastian by Etxepare Basque Institute and has regularly opened  Scottish Care's yearly Conference's (care providers, local authority, NHS and Scottish Government colleagues).
You Said You Liked The Dancing from Martin Clark on Vimeo.
In 2012, inspired by the University's dementia development and research work, Macrobert Arts Centre invited Janice to be in-residence with the folks from Town Break. The first residency, although short, had a profound impact on everyone involved. It concluded in the creation of a short dance film, which itself has had a powerful reach across the world; challenging perceptions of ageing and dementia both for its audiences and for the people who perform in it.
Photo credit: Tommy Ga-Ken Wan