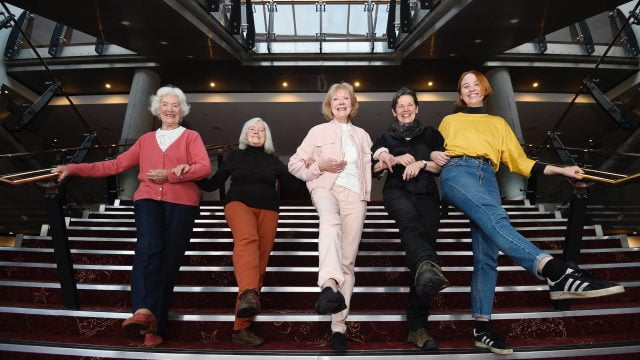 Presented by Janice Parker Projects in collaboration with Festival Theatre Edinburgh.
Live event at Festival Theatre Edinburgh, Empire Rooms
21st, 26th, 28th October 2017
Part of Luminate Festival of Creative Ageing.
Supported by Life Changes Trust.
An Audience With… is an ever-evolving, collaborative, responsive, long-term dance project that mixes generations, supports autonomy & agency, focuses on Variety Theatre and creates an assortment of events and happenings.
Our live event at Festival Theatre Edinburgh in October 2017 features six women dancers, spanning three generations, sharing their practice and dancing together.
It all started last year when Janice Parker made a call out looking for dancers from the Variety era who had, at one time or another, performed on the stage of The Empire – now Festival – Theatre Edinburgh. Marie Duthie, June Don Murray and Doreen Leighton-Ward are three prolific Variety era dancers who have each performed at the Empire, and have never stopped dancing and sharing their love of the art form.
Marie says: "I've danced from the word go. My mother used to say whenever there was any music on I was twitching and moving, always dancing and doing my own version. I feel so at home the minute I put my tap shoes on."
June says: "Oh, it's a laugh a minute, we love it, but nobody knows what goes into making a show, the time it takes, how hard we work, the precision."
Doreen says: ''Ours is a small piece of a large jigsaw from which other dance styles evolved. I've a renewed sense of worth in the work we did 65 years ago. This is exciting, heady stuff."
You can see Janice, June & Doreen dance and talk about the project on Reporting Scotland (jump to 21mins in).
We'd love to hear from other dancers who performed on the stage of the Empire Theatre or similar circuits in the Variety era in Scotland. For further information please contact: Paul Hudson paul.hudson@edtheatres.com 0131 622 8444
An Audience With… book and film will be launched in Spring 2018.