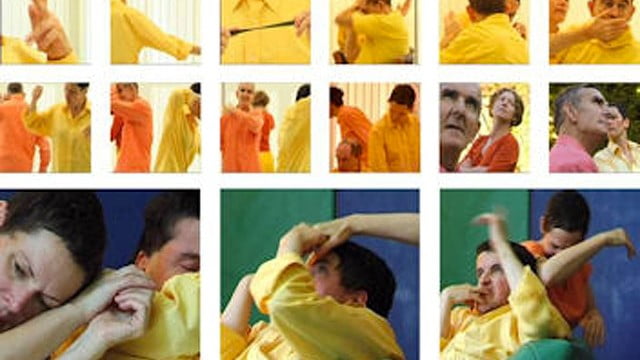 Dance for camera film by Go-At with Clarendon Support Services
Camera: Katrina McPherson
Editor: Simon Fildes
Sound: John Cobban
Commissioned by Lung Ha's Theatre Company, June 2004.
There's Something You Should Know has been recognized as an innovative and challenging example of its genre and has been selected for screening as part of a number of high-profile international curated screen dance and video art programmes.
International screenings: Traverse Theatre as part of 'In Transit', a Scottish Arts Council study-day on Arts and Disabilities (21/06/05) and as part of curated programmes:  at the Rotation 2005 Festival at the Kiasma Theatre, Helsinki, Finland (18/10/05); New Territories Festival at Tramway, Glasgow (8-12/02/06) as part of the CRATE 'Captured: Performance to Camera' programme (curators: Lei Cox and Pernille Spence) also at Threshold Space, Perth, Scotland (27/10/06); at the Opensource: (videodance) conference (18/06/06); the Ultima Film – Dance for the Camera Festival in Oslo, Norway  (01/10/ 2006) and the Video Danza Festival International Festival de Buenos Aires, Argentina, (28/11/2006); Reelmoves Dance on Screen Festival, Sydney, Australia,  (16/05/2008), as part of international artists screening; Dance Camera West 'Screendance: a new visual language' programme, Los Angeles, USA, (5 & 6/06/2008), 'Screendance: State of the Art' Festival, as part of the American Dance Festival, North Carolina, USA.